Sustainability Innovation webinars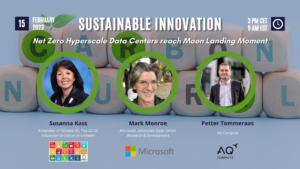 Sustainable Innovation
15 February 2023

"How hyperscale data centres can reach a moon landing moment of Net Zero", hosted by a member of the climate change 50 and top 10 data centre influencers, Susanna Kass, with Mark Monroe from Microsoft, along with our CEO Petter M. Tømmeraas. Each speaker has extensive experience in the data centre industry, connecting with the pioneers for an immersive discussion on sustainability innovation. Gain practical approaches to how a hyper-scale data centres are in the journey to reach corporate carbon negative neutral pledges.
Microsoft is a pioneer of Azure Cloud; the speaker shall share their moon landing moment from advanced data centre research of their journey to meet their carbon negative neutrality goals, and AQ Compute's speaker demonstrates leadership of the zero carbon results of their pan-European Net Zero data centres.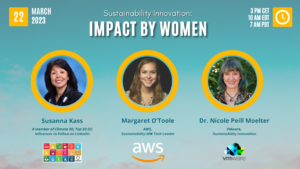 Impact by Women
22 March 2023

The Sustainability Innovation Webinar, hosted by a Top 50 Climate Change Member, Top 10 data centre influencers, Top 50 in San Francisco most admired women, Susanna Kass, with Margaret O'Toole, Amazon Web Services (AWS), Sustainability Worldwide Tech Leader and Nicola Peill-Moelter, Ph.D., VMware, Head of Sustainability Innovation.
The Journey to Net Zero is equally important for women leadership in sustainability innovation. This webinar profiles net positive impact results in sustainability achieved by women in data centre who exemplify the UN SDG Goals with their performance to achieve carbon neutrality goals for Net Zero data centres. These women use a different lens, leveraging each of their intellectual capacity to connect and collaborate with others to carry out her mission with empathy for people and planet through a holistic systematic approach to deliver net positive results and by doing so, also pave the way for others to follow.

You are interested in getting more information about these webinars?
Please feel free to get in contact with us.
Back to Events