The basis
builds a holistic, ecological concept that ensures sustainable, flexible and secure operations tailored to our clients' needs.
The design
is defined around three key aspects: sustainability, modularity, flexibility, and redundancy.
AQ-OSL1
with 100% renewable energy supply & 10 MW of power available at the plot, expandable to 40 MW.
AQ-BCN1
with 100% renewable energy supply & 50 MW of power available at the plot.

We are on a journey to reduce our carbon footprint, with the goal of zero carbon in the future.
Our mission is to provide modular, carbon-neutral data centre capacities across Europe – enabling our clients to reduce their carbon footprints. We offer our clients a unique value proposition: together with our parent company, Aquila Group, we strive to make sure that for each megawatt of renewable energy used by our data centres, another megawatt of renewable energy will be generated and deployed. Thus, we will be able to offer decarbonised data centre services to reduce the overall CO2 footprint of the data centre and colocation industry.
Supplied with 100% renewable energy, our data centres will live up to the needs of hyperscalers, large enterprises and other organisations that require extensive computing capacity.
The design of the AQ Compute data centres is defined around four key aspects: sustainability, modularity, flexibility, and redundancy.
The first two data centres are located in Norway and Spain – with more to follow.
Sustainability
We are committed to incorporating sustainable building practices, promoting the use of low emission technologies, and collaborating with vendors who share our goal of achieving zero carbon emissions. By following these principles, we aim to minimise our environmental impact and contribute to a greener future.
In terms of sustainable building practices, we prioritise renewable energy sources such as solar, wind, and hydrogen to power our data centres, the use of renewable materials, energy-efficient designs, and excess heat recovery strategies. We are constructing data centres that have a minimal carbon footprint throughout their lifecycle.
In addition, we are committed to collaborating with vendors who share our vision of achieving zero carbon goals. We carefully select suppliers and contractors who prioritise sustainable practices and offer products or services with reduced carbon footprints. By partnering with these vendors, we can collectively work towards a more sustainable supply chain and support the development and adoption of eco-friendly solutions.
Modularity
Modularity in a data centre allows for progressive growth in capacity. Our power supply and cooling systems are fully modular, while the data hall is an open space that can be subdivided and expanded in various ways even while the data centre remains operational.
Our data centres can be built as campuses
Made of separate buildings
Each tenant can have specific design requirements and operate it themselves if desired.
Or as dedicated buildings
Prepared for a built-to-suit deployment
Choosing virtually any location in Europe, fitting the clients' needs
Flexibility
We offer the flexibility for our clients to choose between different data centre sizes and whitespace areas for different computing needs and various tier levels. Our data centers will be designed for future technologies.
We also provide flexible and scalable deployment of IT-capacity. We implement the latest data centre technologies that align with the best industry standards, according to our client's requirements.
Redundancy
Our data centres will be designed to reach the standards defined at Tier III level. However, we are able to offer different levels of redundancy to each client. To reduce the carbon footprint and energy dependency of our data centres, we are investigating alternatives to diesel generators, such as generators powered by synthetic biofuels or hydrogen fuel cells, or even large-scale battery storage systems. We are also looking into liquid cooling to reduce mechanical energy and increase free-cooling to further reduce the PUE and increase heat reuse efficiency.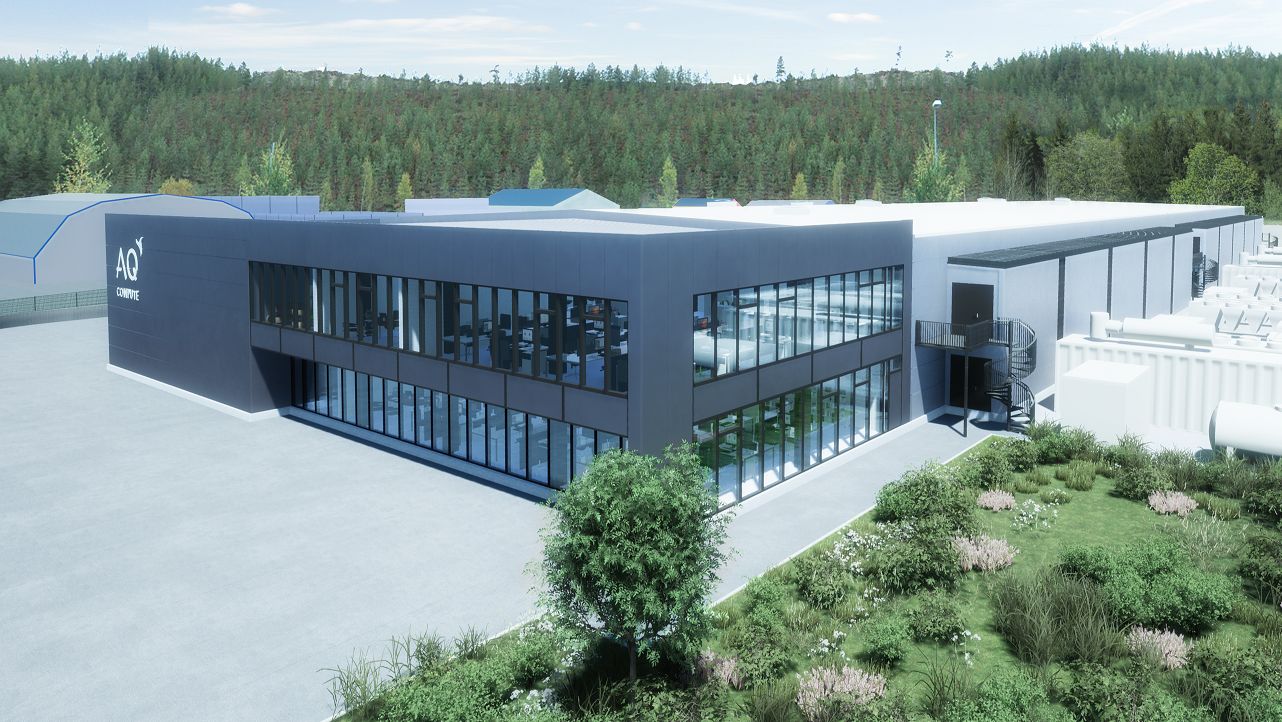 "As part of Aquila Group, we aim to operate our facilities with 100% renewable energy. This gives us a competitive advantage and enables us to participate strongly in the dynamically evolving market for computing capacity
with a strong focus on sustainability."
Henry Daunert, CEO, AQ Compute